Multipurpose spaces for prestigious events
Hotel Indigo® Rome - St. George is the ideal location to organize prestigious events such as corporate meetings, fashion shows, product launches, gala dinners and presentations in the heart of the Eternal City.

With its many multifunctional spaces Hotel Indigo® Rome - St. George offers original settings and unique environments as the mezzanine terrace , the internal courtyard, the Roof Top Bar & Restaurant , the stylish hotel meeting room or the nearby conference facilities of Palazzo Sacchetti and and the Basilica dei Fiorentini .

With its strategic location in the historic center, you can reach all major tourist attractions and effectively manage the logistics of any post congress and team building activities.
Banqueting
I Sofà, the hotel's restaurant, is an alluring setting that combines design and history, and offers the opportunity to organise either a gala dinner for up to 60 people or a more informal event for up to 60 people for a buffet menu.

The Internal Courtyard – a cosy, inviting setting that may be used together with I Sofà (from spring through to the end of the summer only) – can host up to 50 guests standing up or 40 seated.

The Roof Terrace – open from May to October – is the perfect setting for a delightful cocktail party (for up to 100 guests standing up) or a sophisticated dinner party with views out over the city (buffet for up to 80 guests and served menu for up to 40 guests).

The terrace on the Mezzanine floor, exclusively reserved for events from May to October, can host up to 150 people for an aperitif/cocktail, offering enchanting views of the historical buildings in the city centre.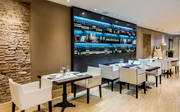 I Sofà Restaurant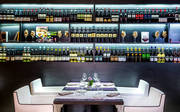 I Sofà Restaurant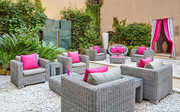 Internal Courtyard
Roof Terrace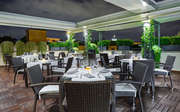 Roof Terrace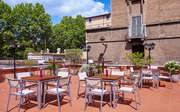 Mezzanine Terrace
Meeting and Events
Inside the hotel small meeting room with natural lightning and congress equipment which can accommodate up to 10 people

For larger events, two solutions for meetings and incentives are available in the immediate vicinity of the hotel (50m/150m):

Palazzo Sacchetti: A splendid 16th-century building redolent with history, featuring frescoes by Salviati and Pietro da Cortona. Palazzo Sacchetti has 7 meeting rooms with natural light, able to hold a total of 560 people. The plenary room can host up to 150 people.
Basilica dei Fiorentini: The hall within the basilica museum is home to a number of works regarded as part of Italy's artistic and cultural heritage. The area used for meetings can host up to 60 people with auditorium seating. This especially appealing location is enhanced with sacred art objects of inestimable value.

Boardoom
Basilica dei Fiorentini
Palazzo Sacchetti